FOOD, FOOD EVERYWHERE! NYC FOOD FESTIVALS TO VISIT THIS SUMMER
Written by Carlyle Property Management on 16.06.15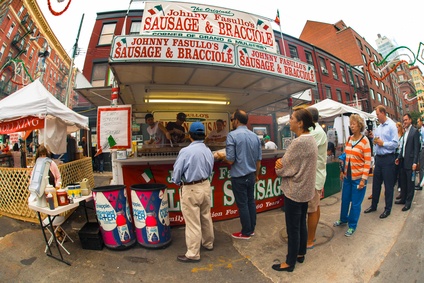 Mmm, the thought of food and New York City just makes the mouth water at the culinary delights that can be found in this foodie city. From delicious barbecue that can put Texans to shame to scrumptious Italian food that makes you forget you are dieting, New York City knows how to throw a food festival as people around the world hold up their forks and empty plates in thanks.
The summer food festivals are kicking off this 2015. Strap on the bib and find yourself the perfect seat to dine on your favorite foods at the following food festivals in NYC.
Big Apple BBQ Block Party
It's barbecue food in Madison Square Park. Really, do you need a better excuse to go? BBQ Pit masters from Texas, New York City, North Carolina, and other places across the country gather with their smoked meats and secret barbecue sauce recipes to create grilled masterpieces for hungry bellies. The Big Apple BBQ Block Party is held during the weekend of June 13th. So get those taste buds ready for some delicious barbecue foods.
Broadway Bites
Everybody loves food that can be taken anywhere. It is the staple of all college and working professionals on a busy schedule. If you are raring to eat on some portable fare that New York City can dish out, then Broadway Bites is the place to go. Nosh on everything from waffles to Turkish delights from all types of culinary kitchens enticing you to loosen the waist belt. This delicious food festival is held from the first of June all the way to July 26th in Greeley Square Park and then heats the kitchens back up again in October.
Taste Asia
You've always wanted to travel overseas yet never had the opportunity to go. Well, just head out to Times Square from June 26th to June 27th for the Taste Asia festival. Chefs from around the world will cook up their best delicacies that will tempt the palate and refresh the senses. They will show their culinary expertise to a live television audience as well as people who want to observe in-person.
Smorgasburg
A name like that just calls to anybody who loves a summer food festival. The Smorgasburg is a unique event as it is held every weekend from April to November. So it is like a food party that never stops until the 14 feet of snow comes falling from the sky. There are over 100 vendors dishing out the food as you can feast on natural slushies, Asian hotdogs and everything else in-between. So where do you go to get these eats? Head out to Williamsburg on Saturdays, Brooklyn Bridge Park Pier 5 on Sundays, or to Queens starting on July 11 on Saturdays. The times are all the same as you can hit the brunch hour at 11am and eat all day long until dessert at 6pm.
NYC Wine And Food Festival
Put done the oven mitts, throw the burnt roast in the trash and head out to the NYC Wine and Food Festival to impress that sweetheart in your life as you can wine and dine your way into her heart. With over 100 events scheduled at this annual festival held from October 15 to October 18th, you are sure to find that one tasty food that you can't live without (okay, so technically this isn't actually a summer festival but it should still get some FaceTime). This festival is held throughout the city. So put on your best walking shoes to meet celebrity chefs, watch culinary demonstrations, and of course indulge in the great tastings. There are even events for the kids.

Topics: NYC Things to Do