GOVERNORS BALL AND OTHER FUN FESTIVALS YOU SHOULD ATTEND IN NYC
Written by Carlyle Property Management on 5.06.15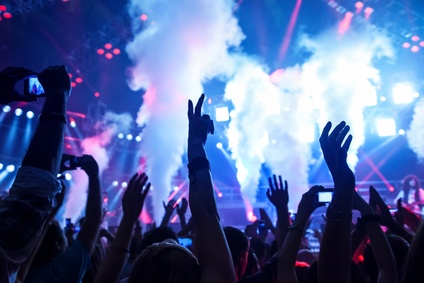 Festival is a word that is synonymous with warm weather. People will be taking the streets this summer and fall to find those festivals where they can rock out to music, enjoy fun games, contemplate the meaning of artwork, and dance until their feet grow tired. New York City is no exception when it comes to festivals that you should attend. Whether it is the rocking Governors Ball or the more classic street fairs, gather the girlfriend, spouse or kids to head out into the city streets. You are sure to be entertained this year.
Governors Ball
Five years and still going on strong, the Governors Ball has become one of the most talked about music festivals to be hosted in New York City. From June 5th to June 7th, music lovers hit the streets to enjoy rocking shows from some of the most talented musical artists in the world. This year they will feature Black Keys, Deadmau5, Bjork, Drake, Florence and the Machine, and over 60 other musical acts. With food, music and dancing, it is one big open party that lasts for four days, and possibly one of the best festivals in NYC.
Louis Armstrong's Wonderful World Festival 2015
The musical talents of Louis Armstrong are still remembered and sang fondly of today. Head out to the Flushing Meadows Corona Park in Queens to enjoy great food, music and wonderful entertainment. This festival is held on June 20th as everyone from older adults to the kids can head out to see the free performances. Musical artists such as Lauryn Hill and Shannon Powell's Traditional All Star Band will be playing up on the main stage while the Backyard Bash will host DJs and family-friendly activities celebrating Louis Armstrong's love for garden parties.
Brooklyn Hip Hop Festival
If you are a hip hop music lover, then you already know about the Brooklyn Hip Hop Festival from July 6th to July 11th. If you just discovered this incredible music, you will want to get out to what is considered one of the largest hip hop celebrations and cultural events in New York. Yes, hip hop involves the music. Yet it also involves artistic expression and a culture that few people consider. Moving into its 11th year, the festival will host musical performances from Mobb Deep, Common, Lion Babe and other fantastic artists. The festival also features artwork exhibitions, panel discussions, and family-friendly block parties that highlights the greatest features of this culture.
New York International Fringe Festival
Looking for the largest arts festival and cultural event in the city? Then head out to the New York International Fringe Festival. This festival is considered one of the biggest multi-arts gatherings in North America. There will be over 200 companies putting on 1,200 performances for 16 days. Check out the incredible arts and drama that will be performed for your entertainment from August 14th to August 30th. There are over 20 different venues taking part in the Fringe Festival, so check out the schedule so you can see as many shows as you can.
Brighton Jubilee Festival
Food, family, friends, music and activities all can be found at the Brighton Jubilee Festival. This multi-block party enters its 38th year as it raises funds for community programs in the Brooklyn area. The event celebrates diversity in its community that brings people together in friendship and musical harmony. The festival is held on Coney Island on August 30th as there are street vendors, kids' rides, art exhibits, musical performances, and other cultural events. With over 125,000 people making their way to this event every year, it's become a Brooklyn tradition that should not be missed.
Topics: NYC Things to Do