A GUIDE TO PHILADELPHIA'S OLD CITY
Written by Carlyle Property Management on 25.03.19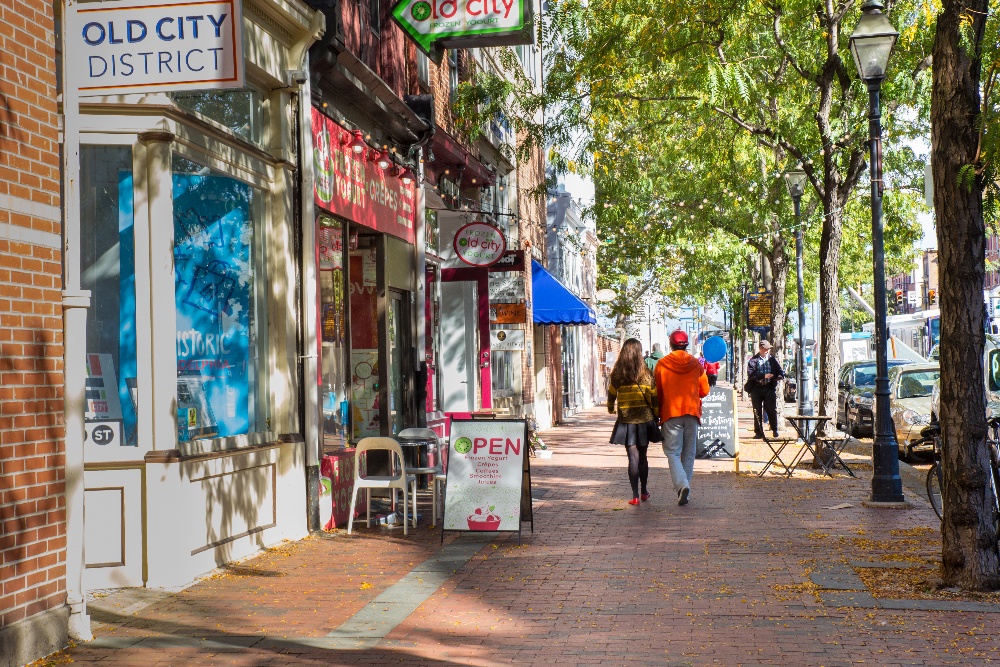 Between the world-famous Liberty Bell and the Ben Franklin Bridge's panoramic walkway to New Jersey is Old City, Philadelphia. Yes, this is where Philly began. And living in Old City has never had more cachet than it has today.
Old City Is a Modern Draw
The country's most historic avenues are now lined with restored 18th-century rowhomes. North of Market Street are vintage and modern boutiques, plus stylish stores for kitchen wares and furnishings.
The park at Race Street Pier is great for a picnic lunch on a sunny day. It's also a focus of Philadelphia's Central Delaware Waterfront revitalization plan. The effort is making Old City an even more attractive place to live.
Where the promenade meets the Pier's lower terrace are steps for sitting. Ah! Perfect for watching the sun go down over the Ben Franklin Bridge.
The Pier offers free internet access if you need to check in on business matters while enjoying the riverfront.
Read More: Philadelphians Love Our Northern Liberties Neighborhood
Family and Friends Will Love Old City
There's so much to do here. The Ben Franklin Museum (101 South Christopher Columbus Boulevard) has hands-on activities for the kids. While Ben's home no longer stands, the museum displays an award-winning architectural replica. Come and see it. Experience many things as Ben knew them—including the sight of printers at work with a colonial printing press.
And watch for the open houses twice a year along the oldest continuing residential street in the nation, Elfreth's Alley.
Become a subscribing member of the Arden Theatre Company. Drama does not get better than this anywhere in the city. Arden offers acting classes for kids aged 2 and up, too.
Old City has a regulation-sized skating rink, delightfully located on the river's edge. Blue Cross RiverRink is open to the public. Roller skating, carnival-style games and concessions are pay-as-you-go.
The RiverRink has some big celebrations in the works for its 25th anniversary season.
At Night, Old City is Fabulous
Check out this season's happenings at Festival Pier. And until 11 p.m., Race Street Pier is open and glowing with its festival atmosphere, shimmering lights and solar-powered LED light walkway.
On first Fridays each month the neighborhood's famous art galleries stay open late. The pubs and shops make First Friday in Old City Philadelphia an attraction for everybody.
To the south of Old City are central Philly's best night spots. For fashionable restaurants, pubs and dance clubs, South 2nd Street won't disappoint!
Experience Cuba Libre for happy hour or dancing the night away. Another haven for happy feet is Brasil's. Opened in 1997, Brasil's has attracted some of the world's top salsa dancers to Old City.
Explore Old City Apartments, Philadelphia
These 3-story rowhome rental apartments at 124 Market Street, between Letitia and 2nd Streets, have easy access to I-95 and the Market-Frankford subway near Penn's Landing.
Their spacious loft-style interiors offer large kitchens with breakfast nooks, updated kitchen appliances, microwaves, sink disposal units, washers and dryers, and central air and heat. Some have granite countertops, marble baths, and new hardwood floors. Cats and small dogs are welcome.
Enjoy great city views and easy access to Colonial-era attractions including Independence Hall and the Betsy Ross House, for entertaining guests. And you're with walking distance of Chinatown's restaurants and stores.
Ready to explore available floor plans in Old City or at any of our Philadelphia rental properties? Call Melissa Conley at 215.545.1039 to see what's new at 124 Market Street or our other great Philly apartment homes.
Learn More About Our Philadelphia Apartments
Topics: Philadelphia Old City , Philadelphia rentals