MOVING IN WINTER TO YOUR NEW PHILLY APARTMENT
Written by Carlyle Property Management on 11.12.19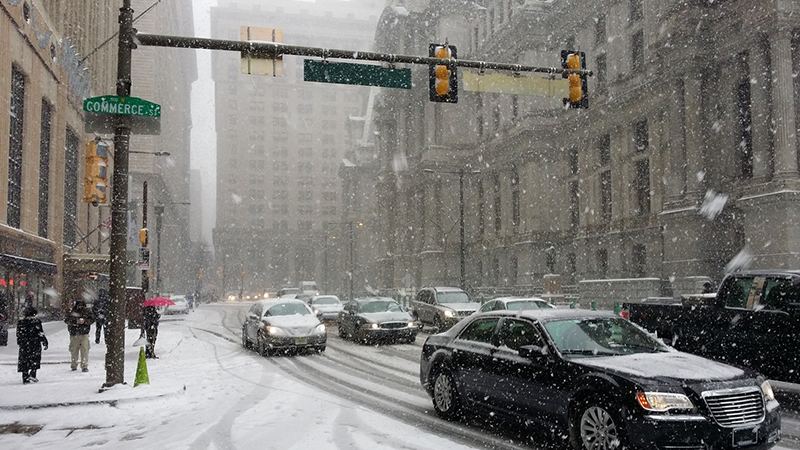 Planning a winter move to a new apartment in Philly? Go for it! Philly and its suburbs are filled with colleges and universities. This makes winter an especially good moving season. Fewer renters, and certainly few students, are itching to get into apartments in the wintertime, so it's a good time to find an available home without the competitive rush.
All you need is a little extra planning, good boots and dry socks.
Preparing for the Weather
In advance, get some gloves designed for using your phone screen. When you're writing things down, looking up directions, calling people or answering the phone, you won't want to have to keep taking your gloves off in cold weather.
In the run-up to moving day, be prepared to clear your driveway of any wet leaves, ice or snow. Cover the entry ways at your current home and your new one with protective, non-slip material.
Other details of the task depend if you're moving yourself, or calling a service. We'll look at both options here.

Planning to Move It Yourself?
Put safety before all else, and set yourself up for success with these planning tips:
If you're using your car, get it checked at the shop so it's in good shape for the task.
Plan to do all the work in broad daylight. In Philadelphia's winter, that's before 4 p.m.
Set aside extra time for finding parking and paying the meters if your apartment has street spaces only. In Philly, apartments with parking are a great advantage.
Stock your vehicle with the important gear: an ice scraper, bungee cords, dry clothes, pads and blankets.
Be prepared for cold, snow, sleet, or wind on moving day. Have towels, extra boots, dry gloves and socks and a coat in the car, just in case. If you are concerned about road safety or there are alerts in place (get Philadelphia weather alerts here), delay your drive until it's safe to go out.

Have Lots to Move? Consider Going Full-Service.
Hire a company. Save your back, and spare yourself the worries about driving a heavy vehicle in winter, protecting items from banging into with thresholds, and so forth.
Full-service movers have boxes and packing supplies for you. They handle the furniture, dissembling when appropriate and putting things back together just where you want them placed in your new home. They do the loading, driving, and unloading.
If you have kids or pets, a full-service company allows you to pay attention to them, while the movers focus on your things.
Ask for quotes from multiple moving companies. Online reviews from locals can be super helpful when you're picking a company.
Just looking for basic help with certain bulky items? College Hunks Hauling Junk and Moving has supported many winter Philadelphia moves. They can bring you a small truck, and a couple of staffers to lift things down and up the stairs. The company serves Ardmore as well as Philadelphia. Don't let the name put you off. They won't treat your furnishings like junk — but they are a bit cheaper than the other companies if you really just need simple support, not full service.

A Few More Things for Your Checklist
Touch base with your CPA or tax pro about your move. Relocating for work can mean income tax deductions, if the cost of moving is substantial.
A week in advance of your move, call the electric company and be sure your services are scheduled to transfer when you are.
And be sure to plan the perfect hot toddy or peppermint cocoa to toast your move.
Here's to You – And Welcome to Philly!
Philly has a lot to warm your heart this holiday season, and the beauty of spring is just around the corner.
Meanwhile, come home to the warmth of your new apartment home, with the amenities and location you'll love. Just let us know what you envision in an Ardmore or Philadelphia apartment by calling 215.545.1039. We'll show you the floor plans currently available at Carlyle Property Management.
Topics: Philly Apartments