3 MOUTH-WATERING PHILLY DESSERT SPOTS NEAR OLD CITY
Written by Carlyle Property Management on 25.03.16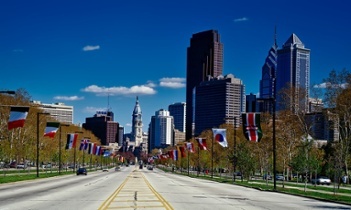 With its winding cobblestone streets and historic Greek Revival and Italianate buildings, Old City is home to iconic landmarks like the Free Library of Philadelphia and Independence Hall. Alongside the must-see attractions, this neighborhood is one of the best places in Philly for dessert. From coconut cream pie to cheesecake, you'll find an abundance of sweet treats and sugary snacks in the City of Brotherly Love's historic center. Here are some of the best spots to check out.
Franklin Fountain
Featuring an assortment of sundaes and splits, cups and cones, this ice cream parlor in the heart of Old City dates back to 2003. Located at 116 Market St., the Franklin Fountain recently created "Chocolate Thunder," a malted chocolate ice cream with hazelnuts, named after local basketball legend Darryl Dawkins, who played for the Philadelphia 76ers. Philadelphians who have an apartment in Old City can head over to the Franklin Fountain for dessert and choose from a multitude of ice cream flavors, including teaberry gum, coconut, peach and pistachio.
Old City Frozen Yogurt & Crepes
Old City Frozen Yogurt's interior walls, painted in bright green and red, are just as colorful as their delicious frozen yogurt toppings. Located at 229 Market St., the self-service frozen yogurt store specializes in yogurt with live cultures, providing a healthier, lighter alternative to stodgy, sugary desserts. Flavors include mango tango, strawberry, cake batter and country vanilla; visitors can add fresh fruit toppings too. The diner's crepes are just as popular, available with a plethora of fillings such as salmon and turkey. Close to Philadelphia apartments in Old City, the frozen yogurt shop also serves coffee and smoothies.
Happily Ever After
Plasma TV screens and framed movie posters adorn the walls at Happily Ever After, a family-owned ice cream parlor where you can pull up a chair, order a dessert and watch the world go by. Located on Market Street, a major Philadelphia thoroughfare with soaring skyscrapers, Happily Ever After serves its famous peanut butter chocolate waffle to sweet-toothed locals and tourists. Menu favorites include seasonal froyos, frozen yogurt, pastries and bubble tea. The eatery is less than 2 miles from Rittenhouse Square Apartments.
Topics: Old City , Philly Restaurants