GREAT APPS TO HELP YOU SURVIVE AND THRIVE IN NEW YORK CITY
Written by Carlyle Property Management on 2.02.15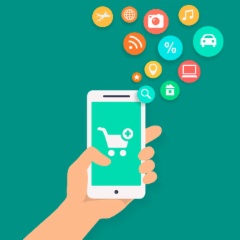 The last of the boxes are packed in your new apartment in New York City. Your friends jump into their cars and trucks with a final wave as they drive away to far-off destinations. You are now officially on your own in New York City. The feeling of wonder and excitement mix with worry as you have no idea about where to eat, how to get around, and what are some great places to visit.
Fear not, brave new New Yorker. We have gathered together some great apps to help you survive in the Big Apple and thrive as you will find tons of adventures in this happening town.
Travel About with HopStop
You have a place in mind to go? HopStop will give you the latest directions whether you are traveling by foot, car, bus, subway or train. Get the most current maps as you debate on which path to take. Even better, this app lets you know about real-time delays or service interruptions so you can quickly make changes to your itinerary.
Pick out Places to see with Central Park
Central Park is so popular that it has its own app. What more can be said about that? Plenty. The Central Park App tells you about all the events, concerts and special attractions happening at Central Park. This app is run by the Central Park Conservancy. So you can trust that the information will be accurate and kept current. You can visit great places such as the Shakespeare Garden, ice skate at Wollman Rink or play chess at the Chess & Checkers House — along with seeing other attractions.
Find Something to Nosh with OpenTable and Tweat.it
Your stomach is rumbling and you want to appease the beast inside. If you are looking for food on the go, use Tweat.it. Tweat.it lets you find the nearest gourmet food trucks in your location. Real-time information and maps also help you get the latest discounts and find out what daily specials are available. If you are looking for a place to sit down and rest your feet while you dine, find a table reservation with OpenTable. Search for restaurants in your location, see what is on tonight's menu, and place your reservations from within this app.
SitOrSquat says it all
If nature calls when out and about in New York City, most stores only cater to paying customers. SitOrSquat is a restroom finder app so you can find the closest public facilities to your location. Past users of the facility leave their ratings so you will know just how clean the restroom is, hence the name "sit or squat," as you can have the ideal restroom experience. Just type in your location for the app to work, or push a simple button as the app can find your location if you are in a bit of a hurry.
ExitStrategy to Navigate Bustling Subway Stations
Get off at a subway station and you can find yourself spending days (okay, minutes) trying to navigate your way to the exits all because you got out of the farthest car from your intended destination. ExitStrategy is a handy app that can let you plan out any subway trip. It tells you which entrance to take to the subway, which car to board and which door to exit so you can get out of the subway faster.
Becoming a New Yorker just got easier with these apps. So learn to survive and thrive in this great city as you will be glad to call this place your permanent home.
Topics: NYC Apartments